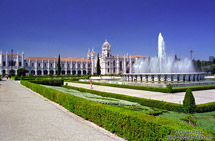 Belém
- Belem Tower (Torre de Belém). The likes of the tower. Entry fee €5.
- Jerónimos Monastery, Praça do Império, 1400-206 Lisboa, 21 362 00 34. Open 10AM-5PM in winter, 10AM-6PM in summer. Free entry to the church, €7 for the rest of the monastery.
- Monument to the Discoveries (Padrão dos Descobrimentos). Entry fee €4.
- CCB (Belém Cultural Center). The modern CCB is holding a permanent contemporany art exhibition, from the Berardo Collection - it features works from Picasso, Dalí, Duchamp, Magritte, Andy Warhol, among others.
- Coach Museum (Museu dos Coches). Housed in the former riding school of the palace, don't miss the world's largest collection of coaches and royal vehicles.
- Statue to Afonso de Albuquerque. In front of the former Royal Palace of Belém, now the Presidential Palace, there is a massive statue looking out to sea, representing Afonso de Albuquerque, second ruler of Portuguese India in the early 16th century.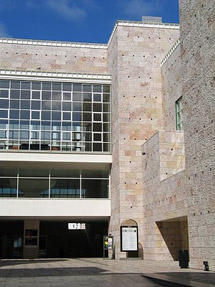 Museums
Museu Nacional de Arte Antiga, Rua das Janelas Verdes, [16]. Tuesday 2-6pm; Wednesday to Sunday 10am-6pm; Monday closed. Portugal's impressive national art collection, including 14-19th century European painting, artefacts of Portuguese contact with the East and Africa and a collection of ecclesiastical treasures. Highlights include Dürer's St Jerome, Hieronymus Bosch's Temptations of St Antony, Nuno Gonçalves' Adoration of St Vincent, and 16th century Japanese paintings of Portuguese traders.
The Calouste Gulbenkian Museum, Avenida de Berna, 45A (take the metro to Sao Sebastiao or Praca de Espanha Sations), 21 7823000. 10AM-5:45PM; closed Mon. Created from the personal collection of Calouste Gulbenkian, an Armenian who longed to see all his treasures displayed in a museum. A nice assortment of Egyptian artifacts, along with paintings by masters such as Rembrandt, Manet, Monet, Renoir, and Cassat. The museum's gardens are worth a visit in and of themselves, as a little oasis in the middle of downtown Lisbon. 5EUR (permanent+temporary exhibition); half price for students under 25 with ID, holders of the European Youth Card (Euro26) and those aged 65 or over; free entry on Sunday and any other day for those under 12.
Fundação Arpad Szenes / Vieira da Silva, Praça das Amoreiras, 56/58, +351 (21) 3880044/53 (fasvs@fasvs.pt, fax: 351 21 3880039). Mon-Sat 11AM-7PM, Sun 10AM-6PM. This museum is installed in the restored 18th-century former Royal Silk Factory. It permanent collection covers a wide time period of the works of 20th-century painters Arpad Szenes and Maria Helena Vieira da Silva, and regularly hosts exhibits by their contemporaries. Adults €2.50, students €1.25, kids under 14 free.
Museu do Azulejo. Museu Nacional do Azulejo is one of the most important national museums, for its singular collection, Azulejo (Tile), an artistic expression which differentiates Portuguese culture, and for the unique building where its installed, former Madre de Deus Convent, founded in 1509 by Queen Dona Leonor.
Museu Colecção Berardo, Centro Cultural de Belem. It is the Museum of Modern Art of Lisbon, with collection of international modern and contemporary art of the 20th and 21st century currently represents around 1000 works from more than 500 artists.
Museu da Marinha, Centro Cultural de Belem, 213620019. Open 10AM-5PM in winter, 10AM-6PM in summer. The interesting Maritime Museum is one of the most important in Europe, evoking Portugal's domination of the seas. Its colossal 17,000 items are installed in the west wing of Jeronimos Monastery, and include model ships from the Age of Discovery onward. The oldest exhibit is a wooden figure representing the Archangel Raphael that accompanied Vasco da Gama on his voyage to India. Entry fee €4.
Pavilhao do Conhecimento. The Pavilion of Knowledge - Ciência Viva is an interactive science and technology museum that aims to make science accessible to all, stimulating experimentation and exploration of the physical world.